First Steps to Digital Culture Through Change Management
Shifting to digital is an inevitable challenge for all businesses. And this transformation is coming at a blistering speed. Indeed, companies have integrated the use of digital technologies very quickly in its daily life. Employees expect their businesses to do the same, evolving with their times.
According to a Deloitte Study:
"80% of respondents from digitally maturing companies say their companies are actively engaged in efforts to bolster risk taking, agility, and collaboration. Only 23% of companies at the early stages of digital development are doing so".
1 - Develop your Digital Culture and Be the Role Model:
Often perceived as bureaucratic, the HR function must adopt a creative and proactive attitude to develop a digital culture. This disruptive change is necessary to integrate and master the new digital tools.
Developing a digital culture within a company depends more on humans than tools used. Relying on digital ready elements within your teams can help initiate the movement.
2 - Have an Identified Strategy
According to a Deloitte study, 81% of managers believe that their company has a clear and consistent digital strategy. Human resources and training managers must, therefore, implement a genuine and authentic action plan to develop new skills within their teams.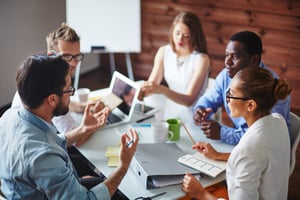 3 - Communication: Key to Involve Colleagues
Raising awareness of employees is crucial to building a digital culture in the company. For instance, internal communication tools (Slack, social media, emailing ...) must be used to share useful information.
4 - Training Employees
The digital transformation is also revolutionizing the vocational and online training sector and providing tools to support employees.
Thanks to eLearning tools that can fill the skills gaps caused by the arrival of new technologies. The use of a regularly updated learning management system (LMS) can, for example, respond to the needs of employees.
5 - Employees Become the Key Players in Their Training
Using digital tools and devices in internal training is a total paradigm shift. Whereas traditional training was exclusively on-site sessions, digital learning puts the participant at the center of training
Thanks to the personalization and the gamification of courses, the outcomes and the retention rate of the participants have only improved. We must rethink and readjust using training tools that adapt to each individual.
Digitization of organizations is a major challenge to the opportunities it offers businesses. HR and training managers are aware of this. If the transformation appears particularly painful, it is nevertheless essential to better apprehend the changes.
We have a team of great consultants to help with your digital transformation. Contact us to learn more about moving to a digital solution.