Educational administrators continue to struggle to stop the financial hemorrhaging that has resulted from the COVID-19 health crisis. A recent study suggests that a 15% reduction in entering first-year students could cost higher education close to $7 billion. As colleges and universities try to reframe their business model, academic departments face the challenge of how to deliver quality digital learning when over 50% of their faculty have never used an online learning platform or delivered a remote learning course.
In the wake of the COVID-19 pandemic, most institutions have not had the time or financial resources to acquire entirely new technology and train staff to use it. Delivering quality content to as many students as possible will be the key to survival for many colleges and universities. To do this, they must leverage their existing Learning Management Systems (LMS) by implementing tools for rapid course creation, fluid course management and targeted assessment of student outcomes - all to scale.
It's More Than a Zoom Account
In the spring of 2020, when schools were forced to a remote learning model overnight, professors with no prior experience in digital learning found themselves trying to conduct classes with Zoom, Google Meet or other online tools. Others, with some experience with their school's LMS,tried to cobble something more sophisticated together. Most of what was delivered was more amateur than professional and plagued by glitches, resulting in deep frustrations on both sides of the virtual classroom.
Going into the fall and beyond, a more polished and scalable set of classes will be required, not only from an educational perspective but also from a financial one. Parents and students alike have questioned the value of online education at in-person prices. It is crucial that colleges and universities use best practices for remote learning if they want to move beyond this "D-I-Y" feel of many current programs and provide a more meaningful and impactful experience to their students.
It's a Learning Management System
The growth in LMSs began at the start of the 21st century. Today, the market is expected to grow to a $28 billion industry in five years. However, the majority of institutions use their LMS for and administrative functions rather than digital learning. The success of the transition to digital learning will largely depend on how each college or university makes the best use of the resources already available to them.
According to NPR, the educational landscape will continue to support in-person learning, combined with some form of online learning. This hybrid approach uses digital learning for delivering content and then an in-person component for discussion, usually in smaller groups. A successful hybrid model will combine technology and teaching for a more dynamic, accessible, and personalized learning experience.
It Needs to Happen
As more institutions move towards hybrid models, the digital learning capabilities of an LMS become more critical. In addition to the communication and administrative features of an LMS that most colleges and universities are already using, in order to better leverage the potential of their LMS, colleges or universities must find a way to support the following:
Rapid course creation
Fluid course management
Targeted assessments
Rapid Course Creation
Creating compelling courseware can take from 3 to 5 months for many educators. This task is daunting under normal circumstances, but it is particularly difficult at institutions that went online for the first time in 2020. Faculty and designers are working hard to move original content online as quickly as possible using a range of formats such as PDFs, slides or videos -- often for multiple courses.
Rather than starting from scratch, teachers could be "reusing and recycling" content from their other existing courses to help streamline this course creation process. The GT platform offers schools the ability to create learning objects (LOs) out of their supplemental resources and easily insert them directly into multiple online courses. This content reuse feature can also be used for other globally used pieces of content, such as copyright footers, and "About the Professor" sections. Imagine being able to take documents, evaluations and other resources that are used every school year and "drag and drop" them right into any new course that is being created or updated. Through GT's content reuse feature, colleges can save their popular content and insert it directly into any course with one click.
Fluid Course Management
Course management means the delivery of the right content to the right people at the right time. An overly complicated management function creates opportunities for errors that may be difficult to identify or correct. Given the number of classes at any institution, straightforward management tools are a must. Controls should be in place to schedule the release of material and assignments and monitor student activity and participation.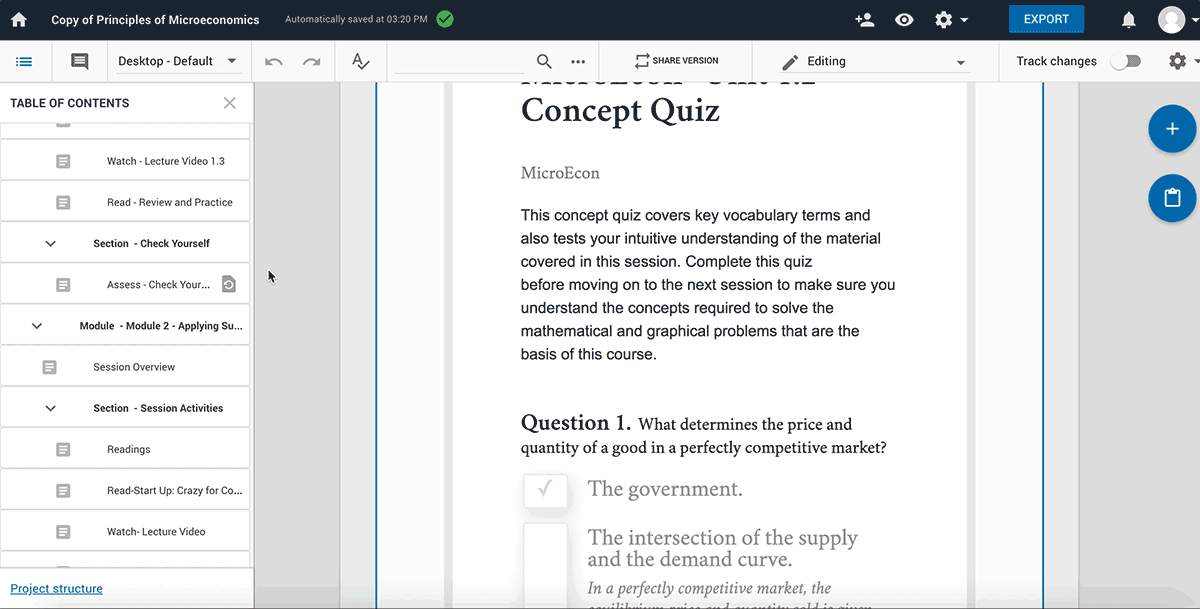 GT's platform allows universities to create audience tags to simplify content distribution and provide a much more personalized user experience to students. Given that educators and students each have their own needs and demands when it comes to content, having a tool to assist in designating who receives what materials and when is a big time saver.
Targeted Assessments
Assessments can be tests, quizzes, or essay exams. They can be digital projects. Whatever the form, an LMS must have the flexibility to produce student-friendly assessments with professor-friendly evaluation tools.
GT's platform provides simple, "drag and drop" tools for creating and evaluating relevant student assessments, allowing schools to much more effectively facilitate the feedback loop of the hybrid teaching model.
And it Needs to Be Scalable
In order to compete in today's pedagogical environment, delivering high quality learning experiences to as many students as possible will be critical. Colleges and universities must move online quickly and inexpensively. While many institutions already have LMSs, most are not able to fully leverage their potential because traditional LMSs do not have the capacity for scale. GT's platform, with features optimized for rapid course creation, fluid course management and targeted assessments is a game changer for schools that want to create resources for effective hybrid teaching.
For those passionate about education, today's world presents unbelievable challenges and exciting opportunities for better student outcomes. If you're looking for a partner to help turn those challenges into opportunities, contact Gutenberg Technology.