An integrated print and digital design and production process allows you to free your content for distribution to any channel. This case study dives into the ROI of a digital-first approach.
Creators of educational materials: "Design & production processes are becoming more and more obsolete as technology solution become more prevalent."
Digital First, Print Second
The typical design process for a textbook can take up to 17 months. From ideation and implementation, to typesetting and final pass pages. The traditional process contains certain inefficiencies that delay your time to market, decrease your time for content development, and increase your final budget. Educational content should be distribution-platform agnostic, and authored for reuse across multiple delivery channels. Introducing MyEcontentFactory (MEF), the one-stop solution that simplifies the content digitization and simultaneous publication process for publishers that live in both print and digital worlds.
Are you still designing for print first and "dealing" with digital as the aftermath? The process has changed: start your digital transformation by designing for digital and print in at the same time. Preview print and for digital layout, add rich media and assessments to digital products with content elements used for print products and vice-versa, all while making edits collaboratively in a single environment, and complete your print and digital production simultaneously with MyEcontentFactory.
Outdated Traditions Need Replacing
You may be familiar with the traditional design process: the design brief is created, edited, and finalized before the manuscript is turned over. After copy edit/proofing, the manuscript gets inserted into the finalized design and exported for authorial/editorial comments, tweaks, and edits – this can go through several stages of "passes" before turning over printer ready files. The content is then digitized last.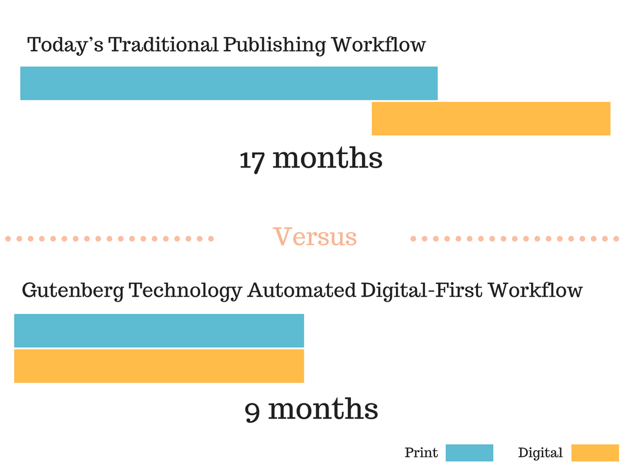 A New Workflow Challenge
The challenge is to reduce the redundancies, overlapping timelines, and competing technologies. This will not only bridge, but align both work streams within one Unique Simultaneous Workflow. The outcome will speed up the time-to-market, reduce costs, improve the quality of the end product, and ensure happy, engaged end-users.
After a thorough analysis, the following efficiencies have been discovered via the MEF process: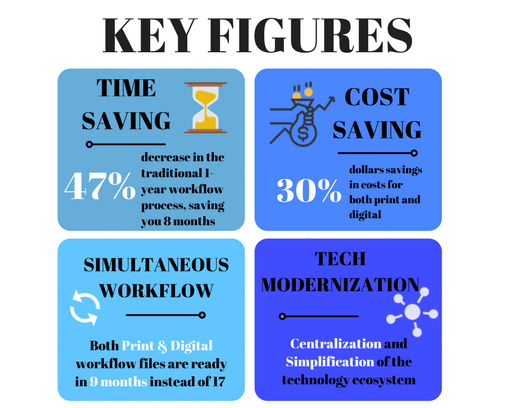 The Case Study
To determine these results, Gutenberg Technology sought the advice of leading industry experts to perform an analysis of the traditional print-first workflow and timeline, used for taking a product from ideation to release for both print and digital products. Gutenberg Technology then integrated this workflow and timeline using MyEcontentFactory for both print and digital. The resulting process is both concurrent and streamlined.
The integrated workflow is based on two different content typologies - one narrative and one template-heavy, which were used to compare and contrast workflow, timeline and identify inefficiencies, optimizations and savings.

The case study contains:
A comparative analysis of this content moving through a traditional and GT solution workflow.
Time and cost savings resulting from using one tool in a simultaneous workflow.