Microlearning is learning based on skills. They are short, bite-sized modules that concentrate only on a specific topic or learning objective. Since they are precise and to the point, the learners can digest it better. The shorter the module, the higher their attention span. These modules are online and can be accessed from anywhere, anytime.
Why is it suitable for the modern learners?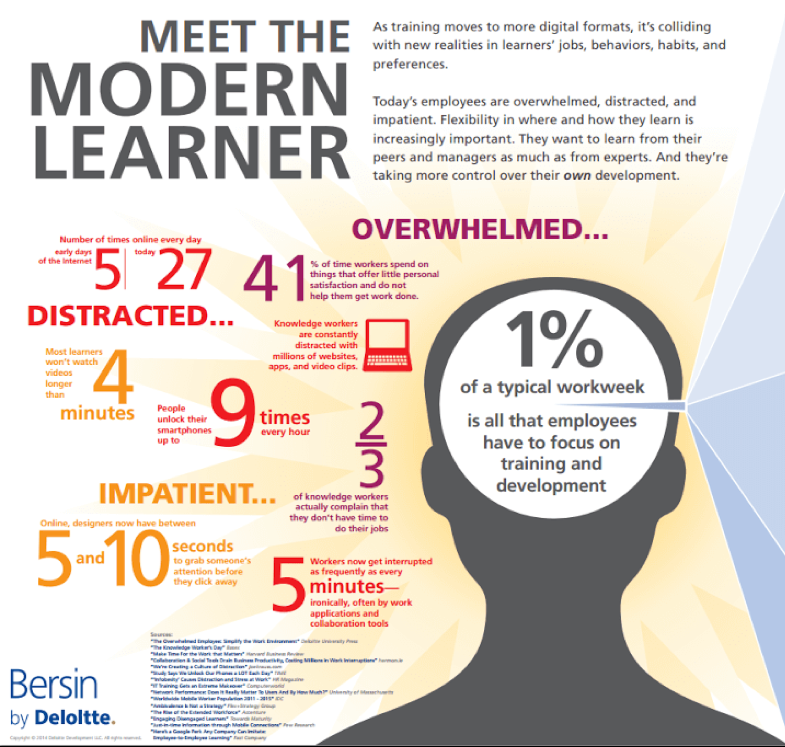 Photo from: 7 Things We Learned From Deloitte's "Meet the Modern Learner"
The human attention span is spiraling down rapidly. The millennial workforce that will occupy a major part of the workforce in a few years from now believes in multitasking. They cannot focus on one thing for a long time. Most of the earners will not spend more than 4 minutes at a stretch to watch a video. On top of it, there are distractions all around, especially in the form of their smartphone. If we are to believe a survey by Deloitte, Americans access their smartphones at least 9 times every hour!
The modern learners are highly tech-savvy. They use technology to do almost everything – shopping, socializing, planning, traveling, and so on. How can learning lag behind? So, if you want to catch their fancy and upskill them, you have to deliver learning in a format they prefer. Employees are not too keen on taking out much time for training requirements. A study by Association for Talent Development found out that employees have less than an hour set aside per week for training. That is roughly 1% of their work week.
Taking all the above characteristics of a modern learner, microlearning is the best way to take care of your employees' learning needs. There are different ways of using microlearning in your organization. You just have to choose the one that is suitable for you – brief videos, succinct emails with tips and tricks, short quizzes, infographics, push notifications on the mobile, and so on.
Where can you use microlearning?
Microlearning is an apt tool to upskill your employees. Here are some functions where it works wonders.
Onboarding
Onboarding is the first interaction that your new employees have with the company. It is important for you to create the best impression possible. Microlearning ensures that your resources are used optimally and the newcomers have the relevant information that is required to settle in.
Keeping in mind the traits of the modern workforce, here is why microlearning is the best tool to onboard new employees.
A new employee is bombarded with information from all around. There are loads of things that they need to go through. This can get overwhelming. Microlearning strategy helps you chunk information in bite-sized nuggets that they can digest one at a time.
The modules are self-paced, so the newcomers can go through it at their free time, without any supervision. This frees up a lot of time for the manager.
It may not be practical to offer the entire onboarding program as microlearning. You can choose what to include in the face-to-face sessions, and what topics to shift to the online element. A blended learning solution helps you to make better use of the training time.
When you are onboarding a group of employees belonging to different functions, microlearning is apt. All of them need not go through every piece of training available. They can choose the topics relevant to their individual job role.
Compliance
Dry, lengthy, boring are just a few terms that employees associate with compliance training. But, policies are part of every organization and you stand to incur huge losses if your employees do not follow them. Even if you make the compliance training mandatory, there is no guarantee that your employees have gone through the training thoroughly and will remember the rules when required. A great way to counter this problem is through microlearning.
Here is why it works:
Bite-sized modules are easily digestible. Each module focuses on a specific topic. Short modules make it easy for learners to remember the information and recall it for use.
The spaced repetition strategy where you reinforce the topic in a gap of 24 to 48 hours, can be best implemented with microlearning.
The modules are available on demand. So, if an employee wants to recheck the regulation during a task, he can just pull up the respective module recheck the facts.
Sales
Top sales performers are driven to succeed. They are self-motivated and are open to learning new things. But, they are hard pressed for time and are mostly on-the-go. If you have to upskill them, then you need to deliver content that can be accessed anytime and from anywhere. Also, the training cannot be lengthy. Microlearning can counter all these challenges.
The modules are short and to the point. Each nugget focuses only on a specific topic – be it a particular product feature or a negotiation skill.
These modules are responsive and available on mobile devices. Your sales folks can access it while traveling or at the client site.
They are available just when they need it. For example, your sales team is at the client site and needs information on a particular procedure. They can simply pull up the education and brush up their knowledge right there.
It is easier to update and publish the nuggets since they are broken into chunks. So you need not take down the entire learning in order to make a small update.
If you still have doubts whether microlearning will work for your organization, then hopefully the information shared above would have convinced you to, at least, give it a shot.