Permissions have gotten expensive, especially for images and video content. For content creators, finding engaging photos, maps, or artwork for free in the public domain takes as much time as crafting an entire narrative.
So why the price hike? Rights holders are catching on to the almost boundless audience that will see an image in both print and digital and they're feeling the pinch of all the public domain images out there to choose from. If you're up to speed on the OER movement, you're probably in search of public domain images. But finding the best-fit imagery for your content can be difficult, so chances are you skip the research and toss some budget into stock photo licenses - a quick fix, but not good for long-term ROI.
In this OER series of articles, we will examine the ways to incorporate free material into your content to make it engaging for your learners and lighter on your wallet. So let's start by looking at public domain images. The internet may offer a lot of grey area, but creative commons has pierced through by simplifying the rights process with their easy-to-follow rating system. While there are clearly labeled public domain images out there, the question is how do you find them?

Let's look at three sources:
The Art of Public Domain Images: The Met's Open Access

On February 7, 2017, the Metropolitan Museum of Art in New York proudly introduced their Open Access campaign. The movement takes artwork in their collections recognized as public domain and tags them digitally with a Creative Commons CC0 1.0 designation. That's 375,000 works of art! According to Creative Commons, CC0 1.0 means "the person who associated a work with this deed has dedicated the work to the public domain by waiving all of his or her rights to the work worldwide under copyright law, including all related and neighboring rights, to the extent allowed by law." In other words, you are free to use and remix the content without any limitations.
The search functionality is also fairly easy. From the homepage, simply click on Art > Collections, then filter on the left by "Public Domain Artworks." Still want to make sure you have the right content? Each image comes with a CC0 "Public Domain" logo at the bottom of the screen next to your download options.
For those also concerned with alt text or metadata tagging, the Met also includes the background information (known as "tombstone data") via Github under the CC0 designation. Though there isn't an API yet, the website assures art enthusiasts that it's on its way.
The Scholarship of Open: NYPL Digital Collections
Like most sites, the works provided in the New York Public Library's Digital Collections range from both public domain and rights restricted. However, the library boasts an impressive 180,000 items that are not only in the public domain, but that are tagged with metadata and come with a CC0 designation.
On January 6, 2016, the NYPL became a leader in open education images by making these items searchable and readily available for download and reuse.
The NYPL even has a nifty project they call the Public Domain Remix which weaves a beautiful tapestry of all their public domain content together, like a mosaic of free educational imagery. Explore a gamified look into mansion floor plans, compare images of the Fifth Avenue of today to that of 1911, or explore the Green Books, a series of travel guides from 1937 to 1964.
The NYPL's Digital Collections are a testament to research tools in the 21st century - searchable, visual, and collaborative. So go ahead, peruse. You never know what you'll find. But remember, this is still a library, so give back by linking and giving a few words of recognition to their efforts.
The Science of Free: Navigating NASA
NASA is making science imagery more readily and digitally accessible as well. According to Open Culture, NASA released over 140,000 images, videos, and other multimedia for free use. The user-friendly interface resembles that of other online photo galleries like Shutterstock and is just as easy to navigate. Content is downloadable in large, hi-res formats and tagged for easy searching.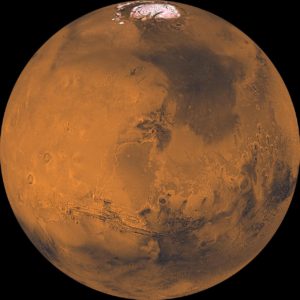 This isn't all of NASA's imagery, of course, but a simple search for let's say 'Mars' yields over 16,000 results with new uploads constantly being added. If images on space exploration are what you're searching for, we think you'll find what you need.
So let's face it, OER is catching on. You can view them as competition or you can use them to your advantage, decreasing your spending and increasing your ROI. The question is, how are you organizing your media so that you can use, reuse, and share the fruits of your public domain image research? Media library options, like those in MyEcontentFactory, allow you to store and manage images, videos, and other media in a single place for your projects. Just upload, tag, and start making that content a visual masterpiece.
Looking for more tips? We're here to help!