As the international publishing industry faces an increasing decline in the sales of textbooks and other publications, there is a need to identify inefficiencies in the traditional publishing workflow. These inefficiencies are caused by an outdated print-first production process that takes much too long and results in an unnecessary loss of revenue. To a large extent, these inefficiencies also stifle creativity.
At the same time,
digital publishing
is on the rise, particularly in the realm of education and learning. Even though they use a digital-first workflow, digital publishers are still adversely affected by the fact that digital products generally rely on print-first content.
A newly released case study by Gutenberg Technology (GT) shows how switching to a simultaneous workflow for both traditional print and digital publishing can reduce existing inefficiencies and reduce costs for both digital and print products.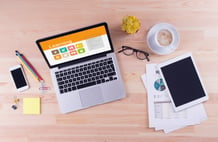 Challenges of the Traditional Workflow
The greatest challenge for both traditional print and digital publishing is that they aren't synchronous processes. Traditional workflow starts with a lengthy print-design phase that eventually leads to the incorporation of digital content (previously the reproduction process that involved typesetting and scanning of photographs and illustrations) and various digital processes.
Furthermore, many publishers are stuck with the mindset that the traditional process of planning, design concept, copy-editing, and proofreading must be followed before the true digital process begins – even though they are publishing digital products. Even once the text has been finalized and the book designed, there are several stages that involve getting comments on printed PDF (portable document format) documents from authors, editors, and in the case of textbooks subject specialists too. The entire production team makes changes and tweaks before the final product can be fully digitized. This can add three to four months to the production schedule.
Ultimately, following print-based rules slows down the digital content workflow. The case study suggests, quite simply, that both print and digital publishers should rather employ a digital-first workflow.
Identification of Inefficiencies in the Traditional Workflow
Inefficiencies in any industry cost time and money. So, the challenge is to identify inefficiencies and find a way to eradicate them and make the business work more efficiently.
The GT case study identifies four basic inefficiencies in the traditional print-publishing workflow:
Print-first publishing is not synchronous with digital-first publishing workflows. Traditionally, it relies on XML (extensible markup language) to format word-processed documents and identify all the components including text, headings, images, captions, lists, and tables. While some XML can be done as part of the print-first workflow, a final PDF is needed before the digital workflow can start. Both the product being worked on and the process used to manage it are typically disjointed and even redundant. Worse, the content channel and communication that goes with it occurs as output on only one platform, and it isn't reusable.
Completely different tools are used for various stages, specifically one for each of these functions:

Print authoring, which is completed after the book has been written
XML to format the completed document
Digital authoring for various devices including the internet, tablets, and mobile phones
Metadata that is key for distribution and marketing
Collaboration with others on various levels

Timeframes for both print and digital editing of content, proofreading, and approval from team members are notably lengthy because of the processes that need to be incorporated. These include:

The creation of PDF files
A lack of instant previews
An absence of vigorous collaboration between team members
A shortage of templates and themes that can be re-used

Most digital products rely on print-first content, ironically not digital-first. For instance:

XML files are commonly created only after a final printed PDF is available.
XML files typically contain content that has been designed for the printing process even though they are usually created with the intention of addressing digital needs.
XML files are sometimes integrated with digital content metadata and various media during the content creation phase or during revisions. Rather, these files should be synchronized during a later secondary process.
Recognizing these inefficiencies is the first step towards developing a synchronous approach that will result in a faster, more efficient publishing process that will be considerably more cost effective.
Gutenberg Technology, founded in 2009, pushes the boundaries of technology in an endeavor to transform education and improve the way people are able to learn. The GT solution, MyEcontentFactory, provides a cutting-edge authoring and publishing tool developed on a software as a service (SaaS) platform, that is designed to increase efficiency and save costs.