Training Materials to eLearning
Have you ever been in a situation where the client comes to you with a 150-page manual, dumps it on your table and says, "Here you go. When can I expect the super engaging eLearning module?"
Been there, done that. And, trust me, it is as difficult as climbing a mountain in stilettos!
With more and more organizations opting for digital learning, you cannot ignore it. Sooner or later you will realize that benefits of including eLearning in your learning strategy. And, as a learning designer, you have to create online courses that are engaging and inspiring. Learners have limited attention spans and it is on a steady decrease. So, if you want your eLearning investment to make a difference, have a good return, and enhance learner retention, you have to ensure that your learners are hooked to the course from beginning to the end.
Here are top five ideas for you to create a captivating eLearning module from your existing training content or otherwise.
#1: Make it relevant.
If you have had the 'good' fortune of dealing with a teenager, you will know the relevance of the term – why. Anything you tell them to do will meet with this word. Why should I do it? Why can't I finish the work later? Why do you always ground me? Why, why-why!
Your learners are almost similar. If you ask them to take a course, they will most definitely ask you why they need to take it. What is in it for them? They have a valid point, though. You cannot expect them to invest their valuable time and effort doing a task without knowing how it will benefit them. So, make sure to make the content relevant to your target audience and connect with their job role. If you are not sure about what the learners need, go out there and talk to them instead of jumping head first into creating the eLearning piece.
#2: Structure it well.
Learners do not like vagueness, especially not if they are taking an online course for the first time. So take out the ambiguity. Keep the navigation simple. Have clear learning outcomes. Spell out the course objectives at the very beginning. The instruction regarding rules on assessments and interactivity, workbook, and so on must be conveyed clearly. An ambiguous structure may put off learners midway.
#3: Use eye-grabbing headlines and visuals.
Your headlines should be intriguing enough to lure the learners into the content. Choose powerful words that have a positive impact on them. The headlines should make them curious. However, do not make it indistinct. It should clearly state the what-is-in-it-for-me information. Of course, the content has to be equally strong and relevant for the learner to stay hooked on the topic. But, the headlines serve a strong purpose of coaxing the learner to pay attention to the topic. Interesting visuals go a long way to immerse the learners in the course. Use impactful images that are relevant to the content. If you do not find appropriate images in stock photography, consider creating it on your own.
#4: Make it interactive.
If you want your learners to be hooked to the course, you have to make it interactive. There are several ways to do that. Broadly, there are four levels of interactivity in an eLearning course.
Passive: This includes the general actions that the learners need to take the course to function properly, like, page animation, navigation buttons, multiple choice questions, and so on.
Limited: This includes the elements in the passive level along with some more features that allow the learner more control over the course. For example, clickable audio, video, graphics, drag-and-drop interactions, navigating to external links, and so on.
Moderate: This level adds more complexity to the course. The developers have the scope to optimize the learner experience through coding. Examples of moderate interactivity include animated videos, scenarios, customized podcasts, and so on.
Simulations: This is the highest level of interactivity that can be used. It includes gamification, 3D simulations, and several multimedia elements.
#5: Offer timely feedback.
A great way to make the learning engaging is to offer instant feedback to your learners on how they are performing. Your learning management system (LMS) should allow you automatically generate performance reports so that you can offer constructive feedback to your learners. Immediate feedback ensures that the errors they commit are not committed to their long-term memory. They can correct their mistakes quickly.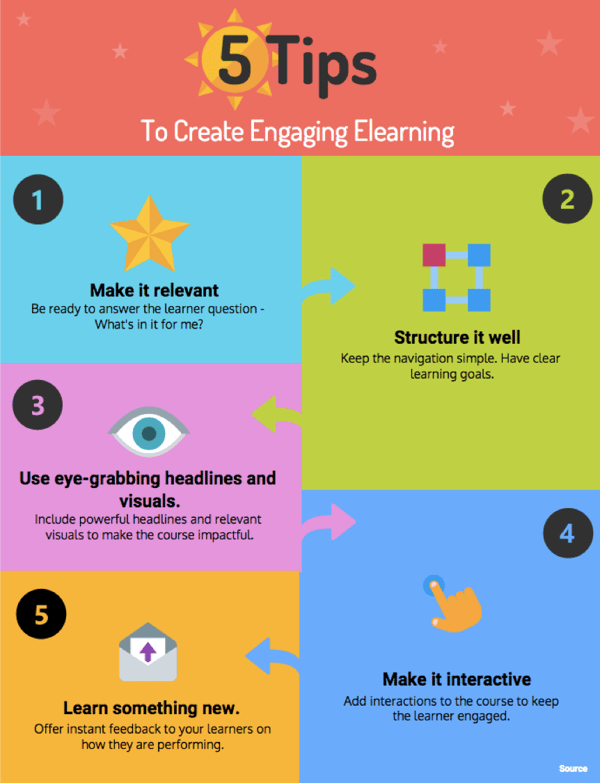 These are just a few tips that your eLearning content is engaging and achieves the results it is intended to achieve. You can create content easy with MyEcontentFactory. You will find the ability to create assessments, add and reuse media (pictures, video, gifs etc.), change content in real time and so much more. If you are looking to create new eLearning courseware and want to see our platform, request a demo today.