Higher Education institutions are natural content producers. Colleges and Universities need to address the digital learning needs of undergraduate, graduate, and continuing education students across different delivery platforms. Educational Publishers also face a similar challenge as they look to author and distribute content at scale to their own internal LMS and external LMSs. Additionally, learners today are digital natives and expect to easily find the same courseware on Web and Mobile Apps.
This blog post will walk you through what we at GT mean by content reuse. We will discuss the importance of this digital functionality within higher education and the key actors and decision-makers. We will address both the what and the why, and describe the powerful value add. We will then wrap up by walking you through several examples of how content reuse can be put into practice. We will also provide you with some key takeaways and actions that you can take today.
What is the problem and what are the impacts?
It can take from 3 to 5 months to create compelling courseware, that amount of time should be shortened, allowing learning design teams to more rapidly ideate and deliver new courses to more partners and more learners more rapidly and efficiently.
Every school year, Content Developers, Instructional Designers, Assistant Deans of Online Learning, Professors, and other personas work together to create and update content for their soon-to-be students. This can become an arduous task if you are creating new content each and every year, even when working together.
At the end of the day, it is the students that end up being impacted by any potential setbacks with content preparation. The quality of their learning outcome can be directly attributed to the quality of the learning materials being utilized during their education. Many former students, myself included, are able to recall a former teacher or professor who really went above and beyond to make their learning experience exceptional.
A big stumbling block today is the sheer amount of learning content that very often needs to be re-used for a different learner, a different type, and, of course, a different type of delivery method. How does one not have to create, manage, and update multiple versions of the same overall content with its structure, content assets, and style, etc for re-use at scale?
An approach to solving the problems.
We know how important it is to author once and distribute different versions of the content according to end-user personas. Through smart content tagging, you can re-use a set of content that can be tagged as a master course, with tags to identify what part of that content is needed for a subset of learners. Let's take a look:
Content Reuse
Imagine being able to take your example documents and articles you use every school year, and "drag and drop" them right into any new content you are creating or updating. Through content Reuse, you can save your popular content, and insert it right into our authoring tool.
MyEcontentFactory offers you the ability to create learning objects out of your supplemental resources, and insert them directly into your content. This can also be used for other highly-used pieces of your content, such as copyright footers, and "About the Professor" sections.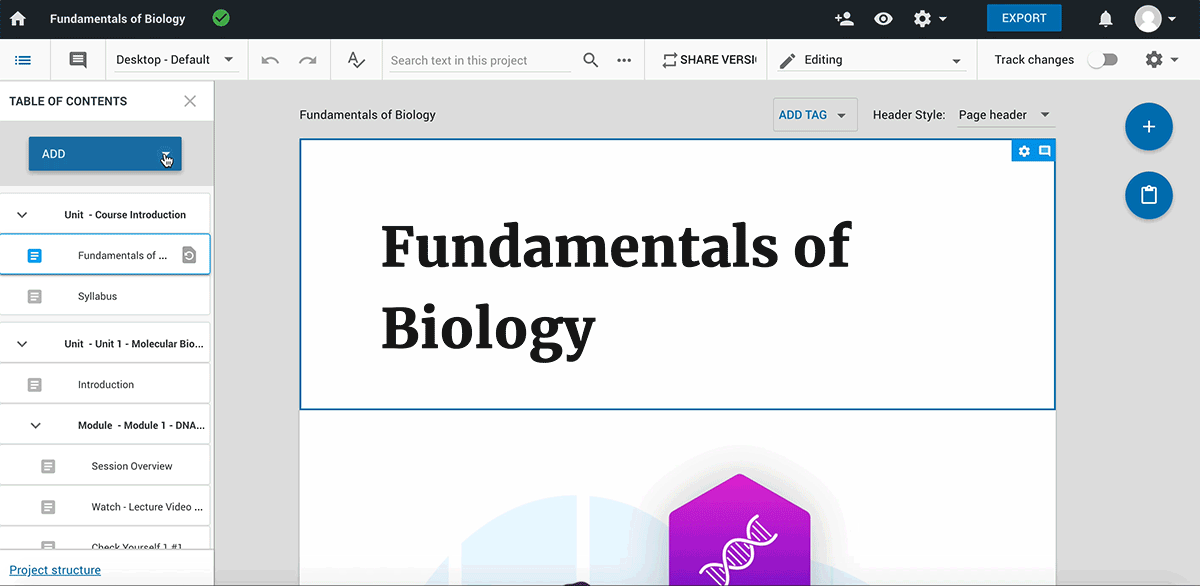 Turning your most-used content into digital learning objects aims to save you time creating and updating your content with meaningful resources.
Audience Tagging
As we've established up until this point, you have a number of different audiences and groups that your content gets distributed to. With each having their own needs and demands when it comes to distribution, having a tool to assist in designating which content is for which group is a big time saver.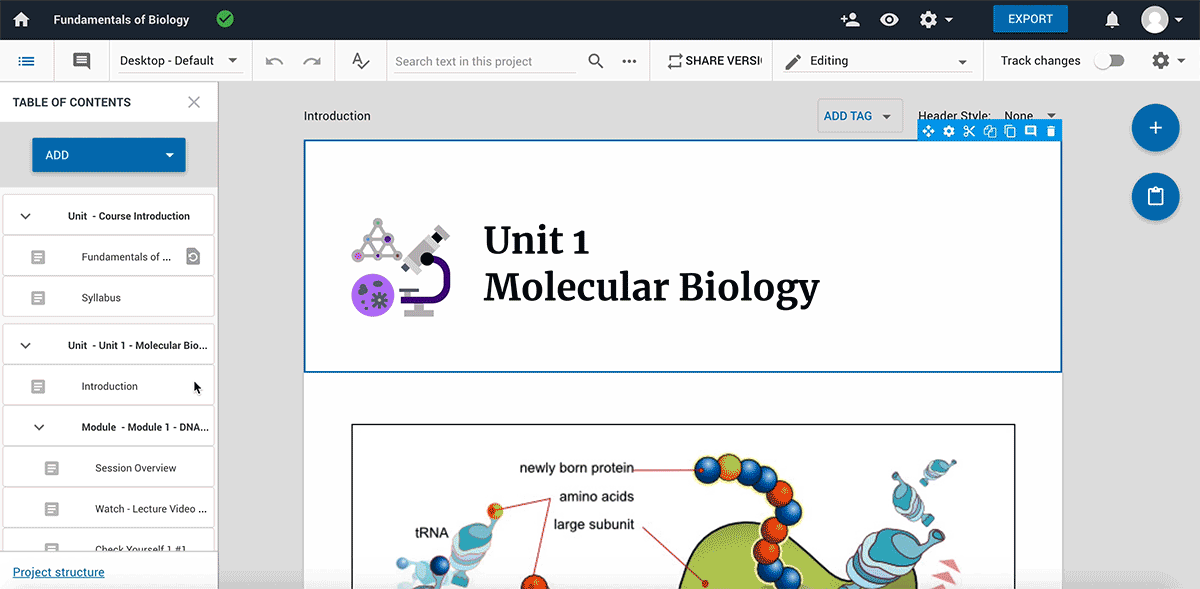 With audience tagging, you gain the ability to distribute your content to different audiences, each tailor-made for them specifically. Use audience tagging to differentiate your student-facing content, versus the instructor version - which contains additional information about the content.
Parent and Child "Projects" relationships for distributing content at scale:
A single parent project can be used to create any number of child projects, all using the pieces of content you select from the parent project to include. Start with the parent project, which serves as the master project with all of your content. From there, create a child project with different project information and/or metadata, and have the ability to rename according to your audience tags.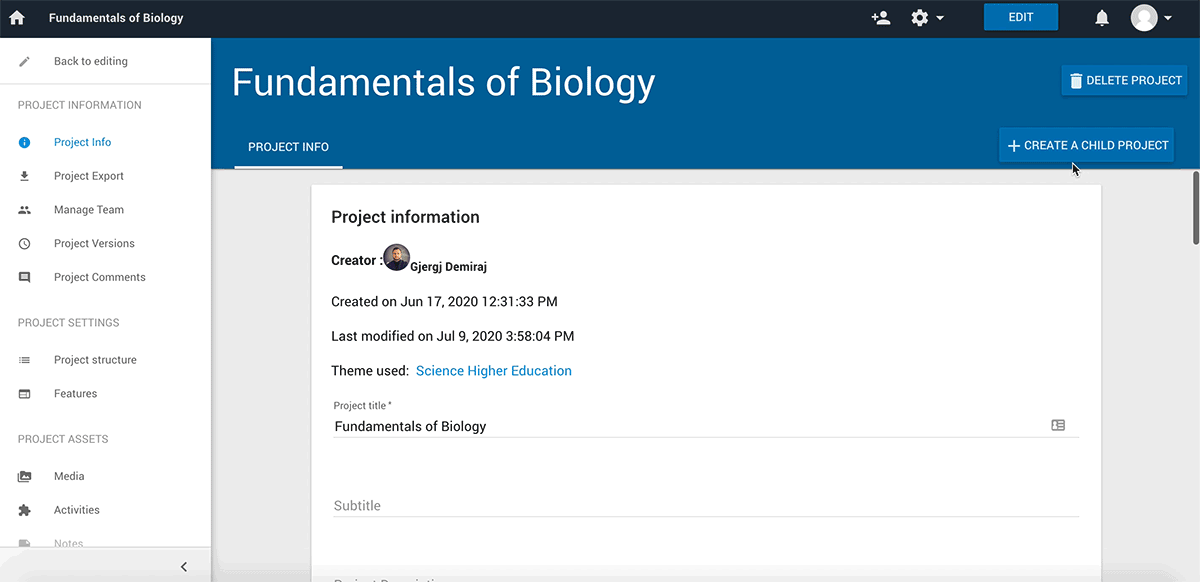 A child project is a great way to manage the content distribution for a specific audience, such as creating an instructor version, a student version, a study guide version, and one for any other groups you have in mind.
Example Use Cases
Let's explore some sample use cases. Page and Section Level Audience Tagging feature, with tagging at a page or section level (through the use of an audience metadata tag).
Introduction to English Writing, or "English 101", is a course that almost every university offers in some variation. Let's say this course is offered not only to incoming new students but also as an online course, as well as an abbreviated summer course. The course material for English 101 is the same throughout all of these offerings, but each group needs the materials to be distributed in a different capacity.
Using the Parent / Child Project feature, you can create a master course containing all of the material that would be included for all of the learners (this can also include information for the instructor only). Once you have your "master" parent project, you can now create a child project for each of the different course offerings you have.
For example, for our online course, we may need to export our course into an LTI format or as a SCORM package and import to an LMS.
The abbreviated summer course will likely need to have some of the content removed that would be used in the fall or spring semesters. Using audience tagging, you can select which parts of your course will be used for the fall and spring students, and what will be selected to use for the summer semester course. Tag the entire course (minus the sections you added for the instructor only) as "Fall & Spring", and then only the parts of the content you wish to cover in the summer course as "Summer".
From there, you can create child projects, update the title, information and metadata as needed and then export your three different versions; one for the instructor with 100% of the content, one for the fall and spring students with all of the student-related content, and a third with the selected content for the summer course - all pulled from the same parent project that you only need to author and edit once for all of these courses.
Key Takeaways
Hopefully, this blog post has helped you better understand the benefits of content reuse and even given you a few ideas of how it can make an impact for you today. Being able to author once and distribute in multiple ways is not only a great time and money saver, but also can have a positive impact on your students.
Along with audience tagging and parent/child projects, customizing your content for your many audiences has never been easier. Leveraging technology is imperative in today's working environment, and we at GT believe our technology is capable of helping with this heavy lifting.