That is what microlearning does – provide extra support to tame the big, hairy training monster.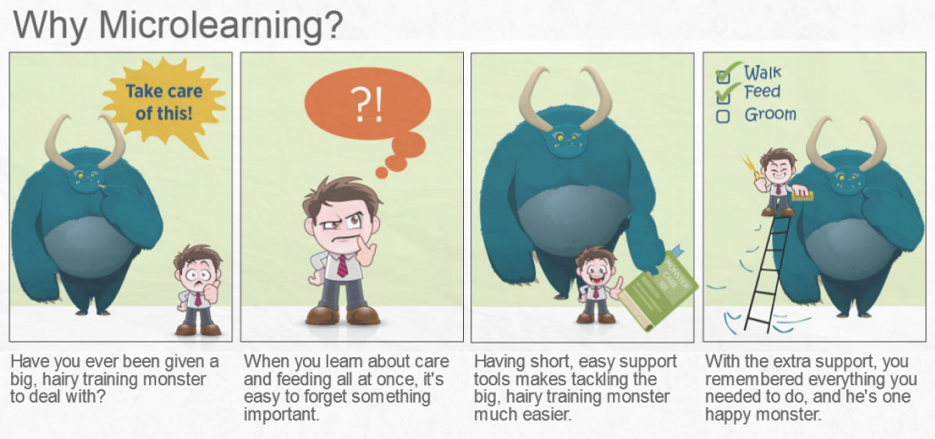 Microlearning refers to short, bite-sized modules – mostly between five minutes in length. Each module focuses on a single learning outcome. Since the modules are to the point, the modern learners find it easy to digest them. They can access it anytime and anywhere, especially at the point-of-need.
Microlearning may be riding high on popularity but it may not resolve all learner engagement problems. The brevity of the modules do not guarantee engagement. You need to have a good design strategy to support the engagement level of the modules.
Top Six Designing Tips for your Microlearning
Here are top six tips that can help enhance the design and engagement level of your microlearning.
#1: Focus on a single idea
Microlearning is popular as a performance support tool. It helps your learners to quickly receive the information they need to resolve a problem or finish the task at hand. Also, each module is short and succinct. So, you cannot cram in too much information into it. Choose only one idea or topic per module. Elaborate on the chosen idea in a way that the learner is confident of the information in it.
#2: Include real-life examples
Real-world examples and scenarios help the learners to connect. Try and use characters and situations that your employee is most likely to encounter at work. If they can form a connection between the topic discussed with the job role, they are more likely to pay attention to the training. The more engaged they are with the content, the better they learn and faster they recall when faced with a similar situation at work.
#3: Make it available on multiple devices
Microlearning modules are most apt for employees who travel frequently. A major reason why this format of learning is popular is because it is available anytime and from anywhere. So, make sure your design is responsive. Your learners should have the same user experience whether they access the training on a laptop, or a tablet, or a mobile device.
#4: Use relevant visuals
No one likes to read reams of text, even if it is for a short duration. Also, text takes a longer time to read and remember. Consider using other media elements like graphics, videos, and so on. Relevant graphics help retain and recall information better if used with a combination of text. The emphasis here is on 'relevant'. Just because you like a visual, you should not put it in unless it is relevant to the topic. It distracts the learner. Infographics, where you combine relevant images with short texts, are a great way to present information.
#5: Embed interactive videos
Videos are powerful learning medium. YouTube is the second highest search service by millennials. This says a lot about how the modern workers prefer viewing content. But, there is a drawback - videos are passive. This disadvantage can be countered with the help of interactive videos. Interactive videos support user interaction through voice, touch, gesture, and so on. You can ask the learners to fill out forms, click a point, match something, and similar stuff to keep them engaged.
#6: Unclutter it
The less clutter you have the better. This rule applies to microlearning too. Avoid dumping all information under one topic. If you have too much information on one topic, then segregate them into nice-to-know and need-to-know categories. Include the need-to-know information in the microlearning module and provide links to the other information. For example, if you are talking about a particular skill, you may want to link your learners out to a webinar or relevant course that you think may be useful. Another strategy is to provide downloadable files that can be viewed offline.
Keeping the design tips above can go a long way in enhancing the productivity of the microlearning modules. Also remember, microlearning does not refer only to short courses. They can be in the form of brief videos, podcasts, infographics, and so on. It is a good idea to collate all of them under an online library for easy access.
You can easily create courseware and using these microlearning design tips using MyEcontentFactory. Our authoring tool allows you to import content, media, and assessments, make real-time changes and collaborate with your colleagues.