The rocket has launched
We are thrilled to announce the launch of our new website! After months of hard work, the new version is out right there www.gutenberg-technology.com, we hope you will like it.
Previously we had 2 websites, a corporate one, www.gutenberg-technology.com, and a product one, www.myecontentfactory.com. But we realized that we needed to be consistent in our online presence, and that it was preferable to gather all information on a single website, to allow visitors to understand us better, as a company and as a product provider.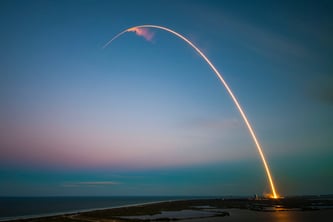 Where to start?
It's actually no rocket science. But first thing first, when redesigning your online showcase, priority is to identify the goals of your website. Otherwise, you will never know if you have reached them, if the project is successful and where to head towards. Goals will provide you a governing principle to make the right choice at each step of the project.
As a B2B company, we are aiming to create interactions with people that may be interested in our SaaS software by providing clear insights on how our solution can improve their processes, their products ROI and why we could be the right partner for their digital transformation.
Our goal is for you to discover the wonders of our platform and find a solution that works in your digital transformation.
What do we promise?
To align with our strategy, we strive to help you all, content producers in the fields of publishing, education and corporate training, to transition to digital processes and create new digital products. We try to help you address 3 different issues.
First, and it's our core activity, offering you to author your content in a new way on our platform by bringing to you a user-friendly and fluid interface, where you can edit text, images, videos, audio files, assessments collaboratively. The idea is to gain time, avoiding endless emailing back and forth, versioning problem and missing corrections. It's also a way to centralize every asset in one place, accessible to members of the team according to the rights they have been given.
Then, once the content is created, we want to help you publish it. Either on other platforms, through different kinds of exports, such as SCORM, PDF, InDesign, HTML5, or by providing preparametered mobile, tablet and web applications where you can seamlessly publish content and build a cross-platform experience.
The big picture in the horizon is actually to help you do your digital transformation, on your own workflow and tools but also in the products you are selling. A simultaneous print and digital workflow could help you face up changes of our time while adapting to new challenges.
Fancy our new offer?
We also chose this new website launch to present you our new packaged product: the Growth plan.
We know that renovating workflows and processes can take a long time and requires deep transformation of uses. Before diving into this kind of change, you can use our platform by subscribing to our packaged and autonomous Growth plan! Use our collaborative and user-friendly authoring tool to create up to 100 projects, design assessments, export them in Epub3, PDF, HTML5, XML, SCORM..., and publish them on a white-labelled web application to give access to them to anyone.
We conceived this offer for those who don't want to change the whole process but need to be able to update and publish elearning modules, presentations or books in the same place, convert them in PDF to be able to print them and make them available on a secure website.
Who are we?
At last, we wanted you to know us better. We know that we speak more about our product that our company, so we decided to disclose what's constituting us as a team.
You can discover our mission and values, companies we are partnering with, the technology stack we use, and also our job openings.
If you have feedbacks to provide on our new website, we would be delighted to hear from you! Write us at hello@myecontentfactory.com. And if you have any desire to know more about our solutions, products or even the company, feel free to message us.
Talk to you soon!
The GTeam